Around the world, in many places as a result of national or regional legislation, there is a move away from traditional refrigerants in favour of refrigerants with lower global warming potential (GWP). In particular, there is a rapidly increasing market for natural refrigerants such as ammonia, CO2 and hydrocarbons.
While this is hardly the first time the refrigerants market has seen big changes, the current shift differs in the number of available options. Historically, the possibility of a one-to-one switch has allowed for a relatively easy process throughout the entire supply chain, with direct components making quick and simple retrofits possible. Today the situation is very different, and the "right" choice of refrigerant will very much depend on the equipment and application in question.
Alfa Laval is home to some of the market's leading experts on the subject of natural refrigerants. Their expertise has allowed us to develop a wide range of heat exchanger solutions specially designed to handle the unique demands of working with challenging and sometimes dangerous substances like carbon dioxide (R744), ammonia (R717) and propane (R290). Contact us today, and we can work with you to find the optimal technology for your specific needs.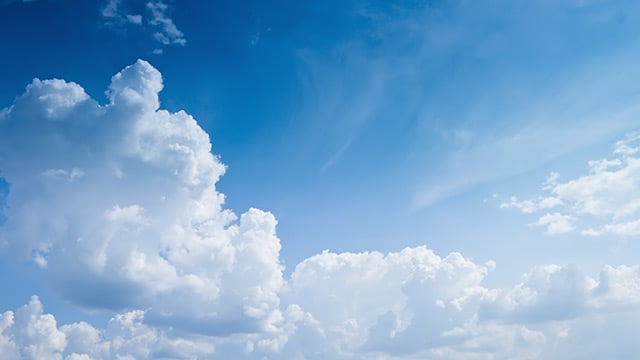 White paper: Navigating a changing refrigerants market
A massive change is currently underway in the refrigerants market. Driven by environmental concerns, legislation is pushing a gradual phase out of traditional refrigerants in favour of new alternatives with lower global warming potential (GWP). Download this white paper for a fundamental primer on selecting and accommodating alternative refrigerants for diverse heating and cooling applications.
Expertise on the refrigerants of tomorrow
Questions about the right new refrigerant for heat pump, air conditioning or refrigeration applications? Looking to make the switch and not sure where to start? Hear Alfa Laval expert Matteo Munari, Head of Application and Product Development, describe some of the challenges that come with working with new refrigerants and how we have designed unique features to solve them.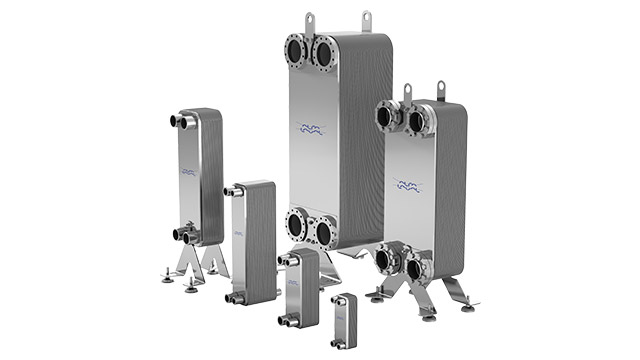 Alfa Laval AlfaNova
Most plate heat exchangers used in commercial or small capacity industrial refrigeration are constructed with copper brazing. While suitable for many applications, this reacts negatively with ammonia, which is an important natural refrigerant. Built with our unique fusion bonding method, AlfaNova is the market's only truly 100% stainless steel plate heat exchanger. It therefore offers a highly compact and efficient solution for cooling of very clean, sensitive liquids and when taking advantage of the low- GWP potential of ammonia.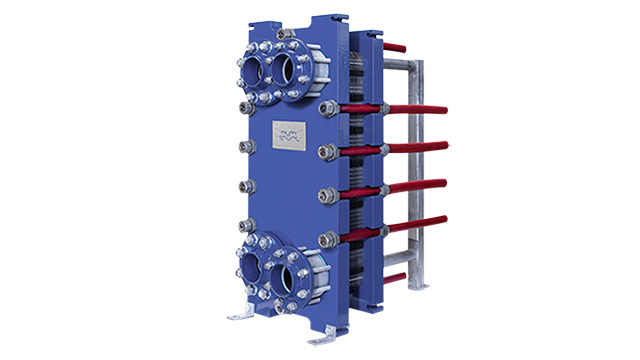 Alfa Laval semi-welded plate heat exchangers
For refrigeration systems used in industrial refrigeration applications, our compact semi-welded heat exchangers enable even higher efficiency and reliability when using ammonia as a low-GWP refrigerant. Alfa Laval semi-welded heat exchangers are also the heat exchanger of choice in cascade systems operating with CO2 as a secondary medium for freezing applications, reducing ammonia charge while preventing the risk of cross-contamination with their proven RefTight™ sealing system.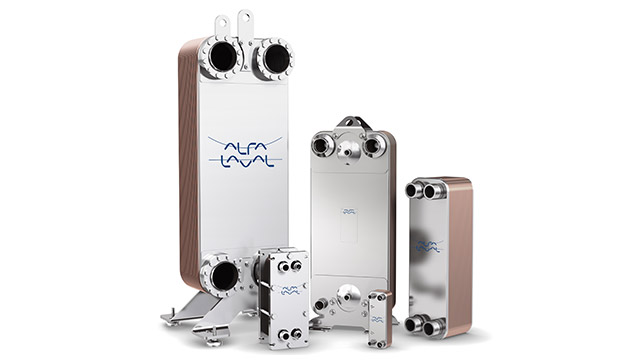 Alfa Laval brazed plate exchangers
Our copper-brazed plate heat exchangers are a compact, efficient, and maintenance-free solution for heating, cooling, evaporation and condensing in numerous refrigeration applications and with most types of environmentally friendly, low-GWP refrigerants. This includes important natural refrigerants like CO2 and hydrocarbons. Each unit is designed for optimized operation, with a range of unique features that ensure both superior thermal performance and maximum reliability.
Looking for more tools and expertise?
Want to get more of the knowledge Alfa Laval has gained in our nine decades of experience in thermal transfer? Does your business need to access BIM files, 3D drawings or other consultant tools? Take a spin over to our Alfa Laval Heating & Cooling Hub for the latest resources for your industry.
Contact us to learn more
Contact us today for more information about our sustainable solutions